working as hard as you do
Getac manufactures industry-leading rugged solutions from the ground up, for some of the most extreme environments around the world. Delivering fully integrated eco-solutions for specialized industry applications. Getac can provide rugged computer solutions for your fleet or hard workers.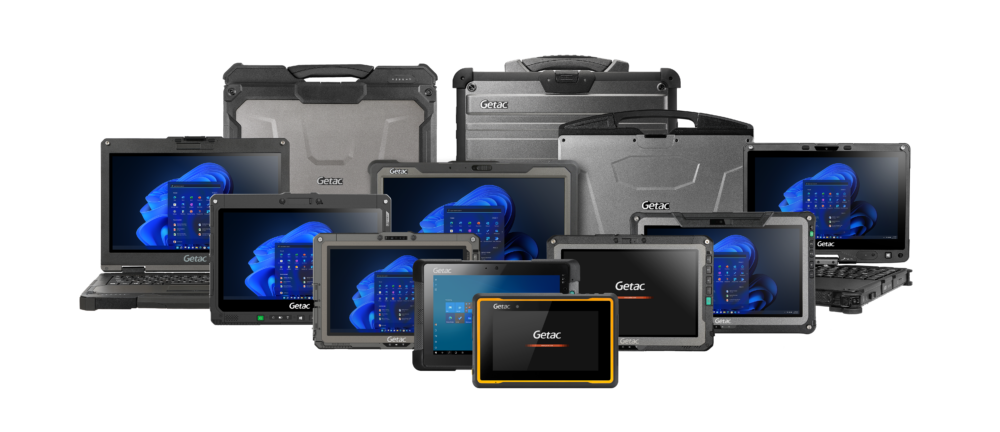 More Than 30 Years of Rugged Innovation
Experienced and dedicated rugged experts are ready to support you end-to-end through the scoping, planning, development, deployment, and maintenance stages to ensure you truly realize sustainable mobility.
Rugged Certifications
We use an internationally recognized, independent research, engineering and evaluation laboratory to certify that our products meet or exceed the MIL-STD-810H, MIL-STD-461G and IP ratings.
LumiBond® 2.0 and Sunlight-Readable Display
Our revolutionary LumiBond®2.0 technology bonds the display glass with the touch panel and LCD, enhances touch functionality and provides a display that is more readable, both indoors and out. Plus, Getac's QuadraClear® solution provides an energy-efficient LED display that is mercury-free, durable and consistent in brightness over time.
5G Ready Connectivity
With 5G compatible and built-in Wi-Fi 6 with 4G LTE, Bluetooth 5.1 and dedicated GPS*, you can complete your entire mission without delays or downtime. Getac design allows you to remain connected entirely at incredible speeds.
Safety and Security
Getac incorporates top privacy and security measures to ensure your data is secure and protected by high-level security such as biometrics identification, command synced with full access and complete control to protect mission-critical data at all end-points. There are many optional add-ons to get you the level of security you require.
See some of the adventures Getac computers have been a part of
Water Protection

Always ready for a rainy day with




verified protection




against spray, dripping water, and rain.

Impact Resistant

Withstands shocks that come with handling,




transport, and fieldwork and




remains physically intact.

Complete Rugged Solutions

Carefully chosen, pre-configured rugged devices,




optimized for individual applications




and user groups.
Some of the most popular Getac Solutions
11.6-inch display
LumiBond® 2.0
MIL-STD 810H and IP65 certified
10th Generation Intel Core Processor
Full size keyboard

MIL-STD 810H and IP53 certified
11th Generation Intel Core Processor
 removable PCIe NVMe Solid-State-Drives
14-inch, 1000 nits screen
3 years limited warranty

FirstNet Ready®
MIL-STD 810H and IP66 certified
11th Generation Intel Core Processor
LifeSupport Battery Swappable Technology
LumiBond® 2.0 technology
 Only 5.11 lbs

FirstNet Ready®
11th-gen Intel® Core™ Processor
Dedicated GPS
MIL-STD 810H and IP66 certified
Dual hot-swappable batteries
LumiBond® 2.0 technology
Learn about Mobile Printers
Learn about Satellite Phones