Example of specs for each brand
COMPUTER

Dell Latitude 5430

CPU
Intel Core i5-1135G7
Intel Core i5-1135G7
Intel Core i5-1145G7
Operating System
Windows 11 Pro
Windows 11 Pro
Windows 11 Pro
Graphics
Intel® Iris® Xe Graphics
Intel® Iris® Xe Graphics
Intel® Iris® Xe Graphics
Webcam
HD
Windows Hello Webcam
Infrared Hello Webcam
Display
14.0″ Full HD
1,100 nits
(1920X1080)
Touchscreen + Stylus
anti-glare
14.0″ TFT LCD HD
1,000 nits
(1366X768)
Touchscreen + Stylus
Sunlight Readable
14.0″ HD LCD
400 nits
(1920X1080)
non-touch
Memory (RAM)
8 GB, DDR4
8GB
16GB
Storage
256 GB SSD
256GB PCIe SSD
512GB SSD OPAL
Battery
(14 hours)
User swappable (11 hours)
User swappable (11 hours)
Keyboard
100%-scale 82-key;
optional RGB backlit
optional rubberized RGB backlit
Backlit Keyboard
Backlit Emissive Keyboard
Connections
WIFI + BT + 4G LTE
WIFI + BT + 4G LTE
WIFI + BT + 4G LTE
GPS
GPS Card
w/ integrated GPS + Passthrough
w/ integrated GPS + Passthrough
 
 
 
 
Avg MSRP for the provided specs
$2,787
$2,606
$3,676
 
These are not the prices you would receive with Preferred Communications. They are straight msrp gathered from online sources to give you a basis for comparison.
Reviews
04/2022: https://www.pcmag.com/reviews/dell-latitude-5430-rugged
10/2021: https://www.pcmag.com/reviews/getac-s410-g4
9/2021: https://www.pcmag.com/reviews/panasonic-toughbook-55-mk2-2021
 
10/2021: https://www.laptopmag.com/news/dells-new-rugged-laptops-seem-durable-enough-to-survive-the-apocalypse
1/2022: https://www.laptopmag.com/reviews/getac-s410-review
 
 
 
 
Notes
Removing touchscreen dropped the price around $800
Upgrading the processor seemed to add around $400
Increasing the storage added around $250
If the laptop will spend most of its time plugged into a power supply in a vehicle, the battery life is not very important.
TPM 2.0 for added security
This computer is labeled semi-rugged but it is much tougher than you think and is meant for really rough handling and stands up to abuse. Seals tight and the hello webcam provides great security.
Pricing typically increases around $300 per device when you upgrade to a newer version of processor.
Pricing typically increases around $400 per device per step up for RAM.
Pricing typically increases around $1000 or more per device per step up in storage hard drive size.
Most law enforcement and first responders go with 256GB
TPM 2.0 (required for windows 11)
They claim to have a battery life of 38 hours. But that involves lowering the screen brightness to only 15%. You do have the ability to have multiple batteries and hot swap them.
Many online quotes with low price were discovered to not include Wi-Fi or bluetooth. Upgrading the processor seemed to increase the price around $700.
Upgrading the screen seemed to add around $250 to the price.
Increasing the storage seemed to increase the price by $700.
Increasing RAM seemed to add $400
There were limitations on what configurations and custom options you could combine.
Specs and Options
Each Brand lists the possibilities
When you say you need a rugged computer you don't mean it needs to survive being but in a backpack and lugged across campus or that you will have it in the car and try to work on t he run while it slides off the seat occasionally.  Sure, those situations need a tougher computer that isn't a dainty flower.  But when your job (or even  your life) rely on a computer and you don't have the luxury of being careful that is when you need a real rugged computer.  Which computers can stand up to the requirements of law enforcement, first responders, extreme industries and more.
Below is one of the best and more respected reviewers for this niche industry.  Preferred Communications is ready to help you with any brand choice you make and to help you decipher all the specs to narrow in on what will make a difference in your job performance.
excerpt from: https://www.pcmag.com/picks/the-best-rugged-laptops
The Best Rugged Laptops for 2023
From PC Magazine
Ordinary notebooks are 98-pound weaklings next to these drop-tested survivalists. Whether you're getting wet or getting your hands dirty, these rugged laptops stay productive in the worst environments. We tested to find the best.
Since 1982, PCMag has tested and rated thousands of products to help you make better buying decisions. 
See how we test.
Who's tougher, Dwayne Johnson or Jason Statham? The answer (obviously, Chuck Norris) is about as inconclusive as advertisements for laptops with vague, overlapping descriptions like "semi-rugged," "fully rugged," and "business-rugged." But the need for notebooks that can take a licking and keep on clicking is very real.
Let's be clear right up front about one thing: When PCMag refers to "rugged laptops," we're not talking to travelers with business laptops, worried about a little turbulence knock-about in an airline overhead compartment. Really rugged laptops are vertical-market dwellers, designed for work in the field or on factory floors. They may be carried by first responders or military personnel, or get mounted on police-car dashboards. They may have to survive being rained on or dropped six feet onto a hard surface, or work through freezing or broiling temperatures, or keep from getting clogged up by clouds of blowing dust or sand.
What's the price you pay for such super-sturdy survivability? One is, indeed, the literal price: Rugged laptops cost a lot more than their civilian counterparts. Two, the weight: A laptop with virtual armor plating can test your biceps to the tune of 10 pounds, an immense burden compared to the three or four pounds of most laptops. That's why many of the true-blue rugged models come with pop-out carrying handles.
Time to look at some tougher-than-average laptops and convertibles! The models below are some of our favorites PC Labs has tested. Let's look at the pros and cons of each one, before getting into a few more details you need to know before you buy a rugged laptop, concluding with a spec breakout of all the models we've tested.
Deeper Dive: Our Top Tested Picks
Panasonic Toughbook 40
Best Rugged Laptop for Heavy-Duty Field Use
Bottom Line:
Formidable construction and extensive customizability make Panasonic's Toughbook 40 the cost-no-object model of a mission-critical rugged laptop.
PROS
Nearly invincible and invulnerable
Many modular options
Epic runtime with second battery
Keyboard and touchpad don't require brute force
High-resolution webcam
CONS
Big and heavy
Pentagon-style price tag
Wi-Fi 6, not 6E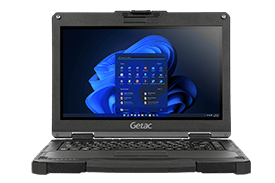 Best Compact Rugged Laptop
Bottom Line:
The Getac B360 is a winner among rugged laptops for providing full protection in a relatively compact package, a display that works indoors and out, hot-swappable batteries, and a best-in-class warranty.
PROS
Fully rugged without being a hulk
Bright, full HD touch display
Dual, hot-swappable batteries
Secure port covers and garaged stylus
Quiet operation
Accidental damage included in three-year warranty
CONS
Wobbly keyboard
Tiny touchpad
Stylus garage on less intuitive (left) side for most users
Panasonic Toughbook 55 Mk2 (2021)
Best Rugged Laptop for Customization Options
Bottom Line:
With an IP53 rating, the Panasonic Toughbook 55 Mk2 isn't the most rugged of rugged laptops, but this machine is eminently customizable and packed with features that enterprise users expect.
PROS
Components are easy to swap out (including hot-swap batteries)
Bright 1,000-nit touch screen with 1080p webcam
Comfortable keyboard
Reasonably compact for a rugged laptop
Built-in stylus
Intel vPro support
CONS
Pricey
Touchpad feels cramped
Middling ingress protection rating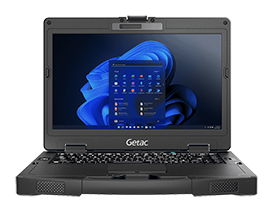 Bottom Line:
Go ahead and beat up Getac's S410 G4. Field and factory workers and first responders will find this semi-rugged laptop almost indestructible.
PROS
Survives more falls and hits than a Hollywood stuntman
Many configuration options, including barcode reader and triple battery
Plenty of ports
CONS
Heavy
Gets expensive fast
Screen favors brightness over color accuracy
Lackluster keyboard