Shown: Peplink Max BR1 Mini HW3
When staying connected is vital
A wireless, cellular or mobile router is a piece of hardware that you probably don't ever think about. It works behind the scenes, keeping you connected. This piece of equipment provides you with communication, wherever you go. It needs to be  sturdy, rugged and resilient enough to stay up and running despite intense temperature variations, movements and vibrations, and rough treatment in general.  
Maintain connectivity. The ability to communicate is invaluable, and even a matter of life and death at times. A Wi-Fi router ensures that technology will stay connected, and programs like eCitation software, license plate recognition, and criminal databases function without fail.
Perform well, no matter the conditions. You don't want technology in your car that is fragile or delicate. A rugged router will continuously provide the connectivity you need despite all kinds of mistreatment and harsh conditions.
Stay safe and keep others safe. A router acts as a lifeline to all of your IT. Get the data you need, when you need it, connect quickly with other officers and agencies, and perform your job to the best of your ability using all of your available resources.
Better serve and protect the community. When your devices are connected and you have reliable communication, you are able to spend more time focused on policing, protecting and serving the people.
 Brands with top performance
PepLink, Cradlepoint, Sierra and more.  Let us walk you through the options and find the perfect match for your situation.
We are here to help you find your solution.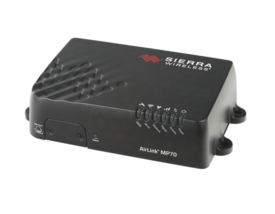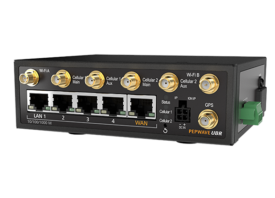 Mobile Router
Peplink Max BR1 Mini HW3:
Durable. Unbeatable Price Performance. Engineered with the highest quality build in mind. Sleek outside, yet ruggedized inside, this device has been built to withstand whatever deployment scenario thrown at it. 
The Max BR1 Mini keeps your network running smoothly with fast-load times. It offers download speeds up to 300 Mbps*. Stream, video chat, browse, and continuously transmit data without delays.
Designed to work where other routers can't, the Max BR1 Mini is deployable anywhere. It'll keep all devices connected even in harsh environments without affecting reliability. Compact chassis allows for easy installation.
Dual-SIM, the Max BR1 Mini ensures continuous uptime for work and play. While at home or on the go, the router automatically connects to the strongest, most reliable network. Compatible with all U.S. carriers, spotty internet will be a thing of the past, significantly reducing downtime.

Cloud Management
Keep an eye on connected 3rd party devices and eliminate the need for OOBM infrastructure with InTouch technology. Get even more control and customization options with PrimeCare*.

The Max BR1 Mini is extremely versatile and fits a wide range of applications.

Peplink MAX BR1 Mini (HW3): LTE CAT 4 WiFi – AC Adapter & Antennas
Peplink MAX BR1 Mini (HW3): LTE CAT 4 WiFi – DC Cable & Antennas
Peplink MAX BR1 Mini (HW3): LTEA CAT 7 WiFi – DC Adapter & Antennas
Peplink MAX BR1 Mini (HW3): LTEA CAT 7 WiFi – AC Adapter & Antennas
Peplink MAX BR1 Core: CAT 4 Direct-Connect – AC Adapter
Mobile Router
Cradlepoint IBR900:
Compact, ruggedized Gigabit-Class LTE router for advanced in-vehicle and IoT connectivity. The Cradlepoint IBR900 Series Router is a ruggedized Gigabit-Class LTE networking platform that was designed for persistent connectivity across a wide range of in-vehicle and mobile applications as well as portable or fixed IoT installations. The IBR900 Series accommodates environmentally harsh environments while delivering  reliability, scalability, comprehensive management, and security.
The IBR900 Series with NetCloud IoT Solutions Package provides a compact 

ruggedized 4G LTE router solution for connecting and protecting IoT devices 

at scale. With an extensive list of safety and hardening certifications, it can




be confidently deployed in the field, in buildings, or in embedded systems to 

deliver complete visibility, security, and control of connected devices anywhere

Cradlepoint endpoints provide industry-leading, Gigabit-Class LTE connectivity as well as Ethernet and Wi-Fi. These purpose-built endpoints are sold with a subscription to NetCloud Service for Mobile or IoT which provides streamlined configuration and continuous cloud, modem, and router software feature enhancements.
Cloud Service delivers what organizations need to orchestrate wireless in-vehicle and IoT solutions
Robust, dependable Gigabit-Class LTE network platform for first responders and commercial fleets
Ruggedized for vibration, shock, dust, splash, and humidity
Mobile SD-WAN for optimized multi-link LTE connectivity
GPS for AVL integration and location tracking to provide current and historic vehicle location
Dual-modem capability with COR Extensibility Dock for multi-link dependability
Heatmapping for an LTE signal strength map of all areas a fleet has driven
WiFi-as-WAN for data-intensive tasks such as video offload