TOUGHBOOKS
Panasonic Laptops & Tablets
The 14" fully-rugged Panasonic TOUGHBOOK 40 laptop breaks new ground offering unrivaled flexibility in even the most demanding and unpredictable environments with its class leading eight modular areas including its innovative modular expansion packs (xPAK's). Optical drives, authentication readers, IO ports and even the Barcode Reader xPAK are all user upgradeable.  Its state-of-the-art design optimizes thermals for maximum performance and its latest technology will ensure the TOUGHBOOK 40 will withstand the test of time. It features an optional dedicated GPU*, up to 64GB of RAM, up to 3TB of storage, all-day battery life, four microphones, color-selectable backlit keyboard, 95db speakers, dual SIM (physical + eSIM) and choice of two cellular modems. The 4G modem provides up to 2Gbps and the 5G modem* adds support of 5G Sub6 with speeds up to 5.5Gbps and the ability to seamlessly connect to the best available network without any disruption or loss of connectivity.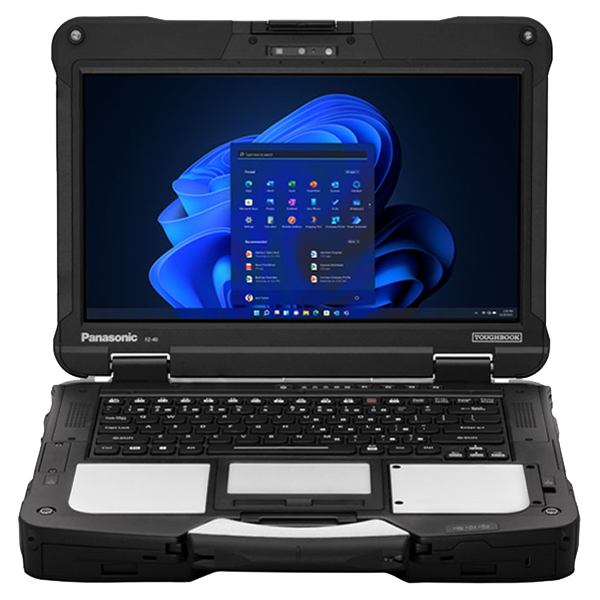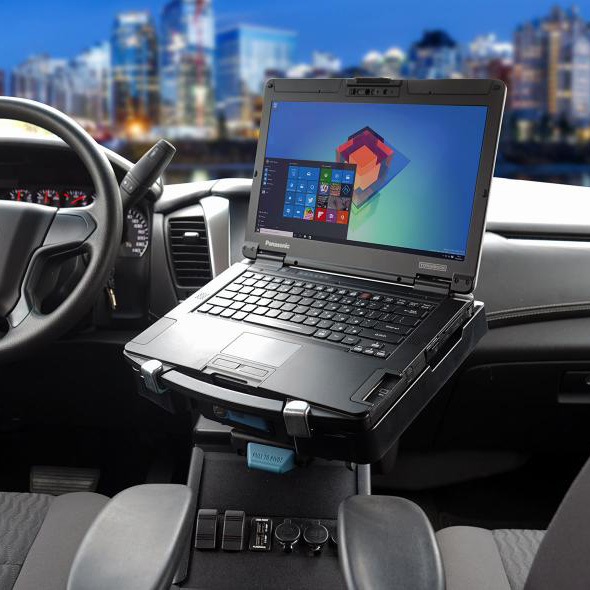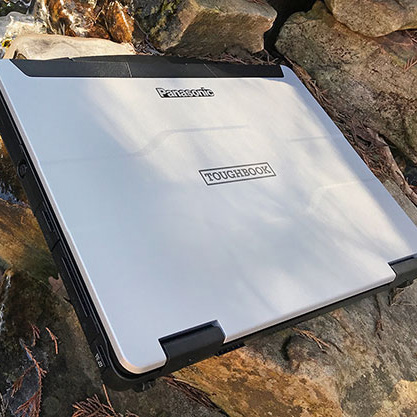 The Panasonic TOUGHBOOK® 55 is a 14" semi-rugged laptop that features an innovative modular design and up to 38 hours of battery life with its optional 2nd battery. The modular design features six expansion areas allowing users to upgrade the memory, storage, keyboard and three different xPAK areas featuring a new barcode reader, additional I/O, optical drives, authentication readers and more. Backwards compatibility with the previous generation of docks protects customers' investments while saving time and resources. Built with state of the art technology, the TOUGHBOOK 55 offers the latest Intel® 11th Gen processors, optional Intel Iris® Xe Graphics, tetra array microphone that provides unparalleled speech recognition accuracy, unmatched battery life, color-selectable backlit keyboard and a Night mode to reduce eye strain and help preserve night vision. Secure-core PC compliant – simplified security out-of-the box.
2-in-1
The 10.1" Panasonic TOUGHBOOK® G2, is a groundbreaking modular fully-rugged tablet 2-in-1 with optional keyboard that has three expansion areas offering 36 different combinations to deliver the ultimate computing experience.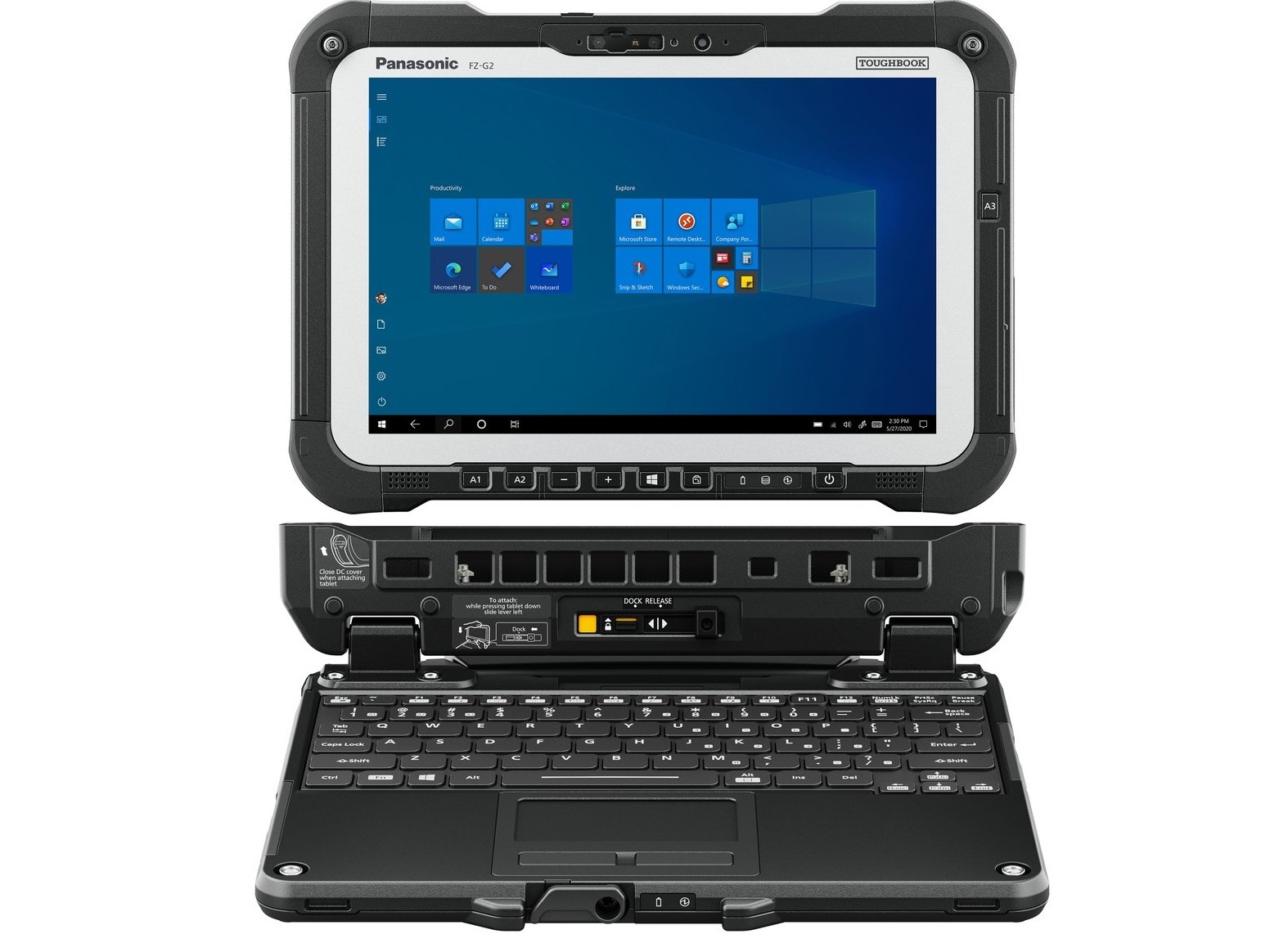 12″ TABLET EASILY CONVERTS TO A LAPTOP WITH OPTIONAL KEYBOARD.
The Panasonic TOUGHBOOK 33 offers unparalleled flexibility in even the most demanding and extreme environments and is one of the world's first fully rugged 2-in-1 PC with a 3:2 screen. Inspired by the increasing demands of mobile professionals, the TOUGHBOOK 33 delivers rugged mobility in a highly customizable package that also includes a generation of backward compatibility. Available innovative vehicle dock adapter allows drop-in placement onto any of Panasonic's large installed base of TOUGHBOOK 31 vehicle docks, offering investment protection while saving time and resources. A wide range of integrated options assure TOUGHBOOK 33 can be customized to meet the unique needs of a diverse customer base.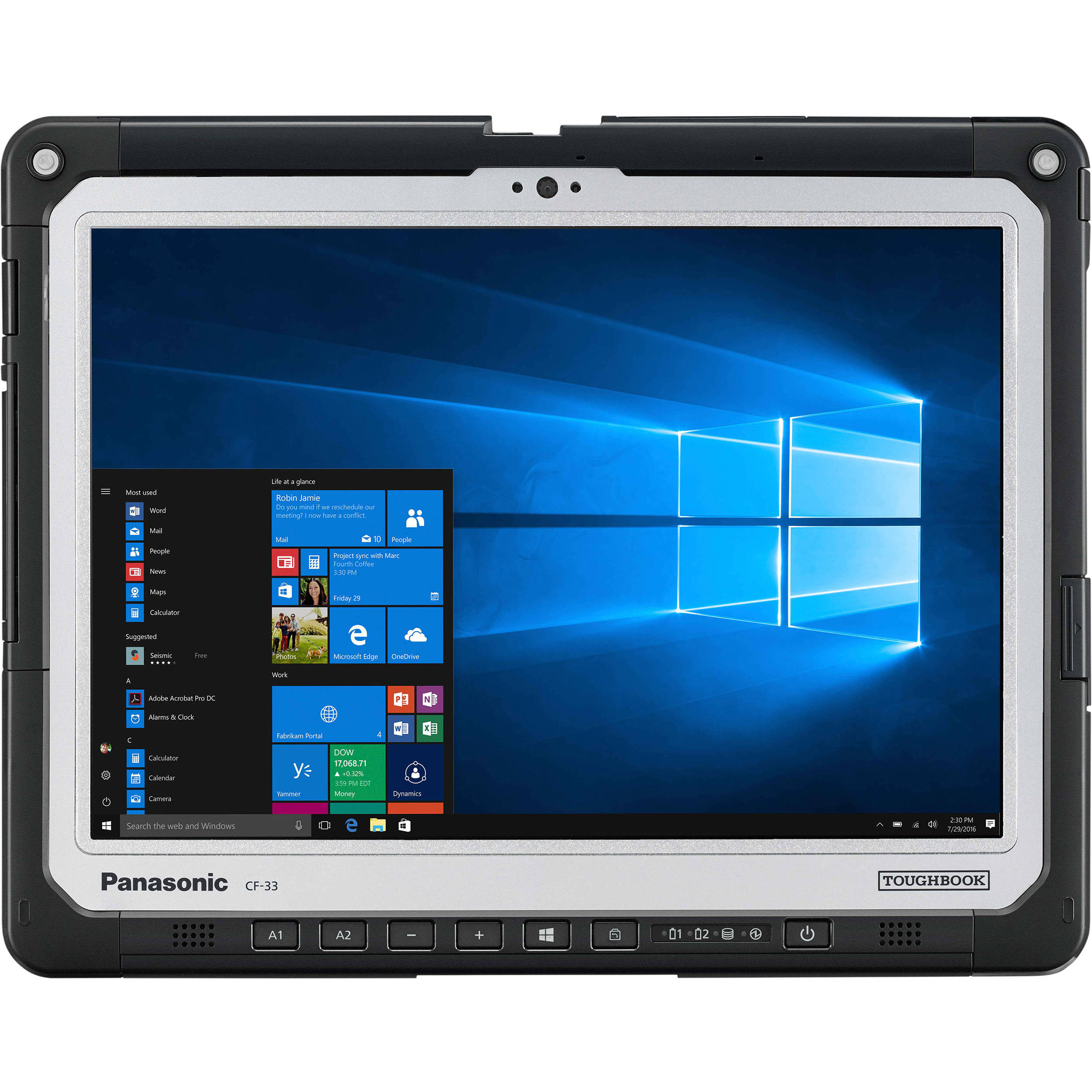 PRODUCT

TOUGHBOOK 40

TOUGHBOOK 55

TOUGHBOOK G2

TOUGHBOOK 33

OPERATING SYSTEM

Windows® 11 Pro

Windows® 11 Pro

Windows® 11 Pro

Windows® 11 Pro

CPU

Intel® Core™ i5-1145G7 vPro™ processor (optional i7-1185G7)

Intel® Core™ i5-1145G7 processor (optional i7-1185G7)

Intel® Core™ i5-10310U vPro™ processor (optional i7-10810U)

Intel® Core™ i5-10310U vPro™ processor (optional i7-10810U)

DURABILITY

Fully rugged

Semi-Rugged

Fully rugged

Fully rugged

DISPLAY

14" FHD




1200 nit multi touch display

14" HD;




Optional FHD 1000 nit Touch model

10.1″ WUXGA




1,000 nit capacitive gloved multi touch + digitizer

12″ WUXGA




1200 nit multi touch + digitizer display

BATTERY

18 hours (36 with optional 2nd battery) – MobileMark 2014

Up to 19 hours (38 hrs with optional 2nd battery) – MobileMark 2014

18.5 hours – Mobile Mark 2014

10 hours (20 hours with optional long life batteries) – MobileMark2014

PORTS & EXPANSIONS

USB-A x 2 (plus 2 more optional), Thunderbolt™ 4 USB-C (w/PD), MicroSDXC, HDMI (optional 2nd), Optional VGA, Ethernet (optional 2nd), Optional Serial, Audio In/Out, Optional DVD Drive, Optional Blu-ray Drive, Dual SIM (4FF, eSIM)

USB-A x 2 (optional 3rd), Optional Thunderbolt™ 4 USB-C (w/PD), Optional Rugged Fischer USB, MicroSDXC, HDMI, Optional VGA, Ethernet (optional 2nd), Optional Serial, Audio In/Out, Nano-SIM, Optional DVD Drive, Optional Blu-ray Drive

On Tablet: USB-C (w/PD), USB-A, Optional 2nd USB-A, Ethernet, Optional True Serial Dongle, Dual SIM (Nano-SIM & eSIM), Docking connector On Optional Keyboard: USB-C, USB-A, Docking connector

On Tablet: USB-C, USB-A (optional 2nd USB-A), HDMI, Ethernet, Optional Serial (True), Audio In/Out, Dual SIM (Nano-SIM & eSIM), Docking connector On Premium Keyboard: USB-A x 3, SDXC, HDMI, VGA, Ethernet, Serial (USB), Docking connector

WEIGHT

7.4 lbs

4.6 lbs. (HD model), 4.9 lbs. (Touch FHD model)

2.9 lbs. (4.9 lbs. with optional keyboard)

3.4 lbs. (6.1 lbs with optional Premium Keyboard)

WIRELESS

Wi-Fi, Bluetooth®, Optional GPS, Optional 4G and 5G (Sub6+mmWave)

Wi-Fi 6, Bluetooth®, optional 4G LTE (EM7511 Band 14, 48), optional GPS

Wi-Fi 6, Bluetooth 5.1, Optional 4G LTE (EM7511 Band 14), Optional Full 5G Sub-6 and mmWave (EM9190), Optional GPS

Wi-Fi, Bluetooth®, optional 4G LTE (EM7511 Band 14), optional GPS

WARRANTY

3-year

3-year limited warranty, parts and labor

3-year limited warranty, parts and labor

3-year limited warranty, parts and labor

CERTIFICATIONS

MIL-STD-810H, MIL-STD-461G, IP66 and optional C1D2

MIL-STD-810H, IP53

MIL-STD-810H, MIL-STD-461G, IP65, optional class 1 div 2 groups ABCD hazardous locations

MIL-STD-810G, MIL-STD-461F, IP65 and optional class 1 div 2 groups ABCD hazardous locations

SECURITY

Secured-core PCs are the most secure Windows PC ever, with powerhouse protection out-of-the-box that proactively helps prevent infections, protects information, and reduces security complexity

Secured-core PCs are the most secure Windows PC ever, with powerhouse protection out-of-the-box that proactively helps prevent infections, protects information, and reduces security complexity

Secured-core PCs are the most secure Windows PC ever, with powerhouse protection out-of-the-box that proactively helps prevent infections, protects information, and reduces security complexity

Secured-core PCs are the most secure Windows PC ever, with powerhouse protection out-of-the-box that proactively helps prevent infections, protects information, and reduces security complexity