GETAC V110

Second generation of Getac's thinner, lighter rugged convertible now with with Intel 5th generation Core processors, better cameras, better display, glove-capable multi-touch.
By Conrad H. Blickenstorfer, photography by Carol Cotton)
Getac's second generation V110 is a remarkably thin and light rugged convertible notebook computer that's been upgraded with Intel "Broadwell" 5th generation Core processors and a variety of functional and technology improvements. Already featuring a spacious 11.6-inch display, multi-touch, dual input, fast 802.11ac WiFi and 4G LTE mobile broadband, the second gen upgrades will provide even greater appeal for those customers who need the comprehensive features of a conventional notebook but also like the handiness and convenience of a tablet. Also helpful is that, though fully rugged, the V110 is remarkably light and slender (it weighs less than a 13-inch MacBook Pro). In this update we revisit the design and capabilities of the Getac V110 platform and describe the second gen enhancements over the original model.
First, let's visit the overall concept of a convertible notebook. The idea of combining laptop and tablet functionality has been around for a long time, going back to the first pen tablet computers of the early 1990s. The specific rotating hinge design used on the V110 made its entrance at the time of Microsoft's Tablet PC initiative of 2002 (Acer and Toshiba used it). Ever since, most providers of rugged computing equipment have had a convertible notebook in their lineup.
How does it work? It's simple. The LCD case of the notebook has a single rotating hinge located in the bottom center, allowing the screen to be turned around so that the laptop can be closed with the LCD facing up. This way it can be used either as a notebook or as a tablet (albeit a fairly thick one by modern consumer tablet standards). The sequence below shows how it works.

The convertible nature of a design like the Getac V110 adds enough extra flexibility and versatility to its operation that it warrants having it in the lineup. And it's not just the dual notebook/tablet personality that comes in handy. Being able to rotate the display is useful when you quickly want to show a co-worker what's on the screen. And the rotating display can be used to make presentations to small groups, without people needing to lean over your shoulders.
So what do you get with the Getac V110?
The Getac V110 is a very rugged laptop that provides flexibility and substantial computing power in a compact package. Its footprint of 11.8 x 8.8 inches is barely larger than that of a sheet of paper. Despite its ruggedness and sturdy build, it's just an inch and a third thick and weighs only a bit over four pounds. And unlike earlier mobile computers in this class that often sacrificed performance in order to get acceptable battery life out in the field and away from electrical outlets, the V110 let's you have your cake and eat it, too — Intel 5th generation Core processor and related technology provide blistering performance and good battery life.
What general size class is it? Used as a tablet, the 11.6-inch display is larger than the majority of currently popular consumer tablets, which generally measure between 7 and 10 inches diagonally. Used as a notebook, the 11.6-inch screen is fairly small, with standard notebook screens usually measuring between 13 and 16 inches, though Apple is very successful with its 11 and 12-inch MacBooks.
| | | | |
| --- | --- | --- | --- |
| Model | V110 G2 | V110 original | V200 |
| | | | |
| CPU | Core i7-5600U | Core i7-4600U | Core i7-3520M |
| CPU speed | 2.6/3.2GHz | 2.1/3.3GHz | 2.9/3.6GHz |
| CPU TDP | 15 watts | 15 watts | 35 watts |
| Graphics | HD 5500 | HD 4400 | HD 4000 |
| RAM | 4GB/16GB DDR3 | 4GB/8GB DDR3 | 4GB/8GB DDR3 |
| Std. storage | 128GB SSD | 128GB SSD | 500GB HD |
| Opt. storage | 256GB SSD | 256GB SSD | 128GB/256GB SSD |
| LCD nits | 800 | 800 | 1200 |
| Keyboard | 100%-scale | 100%-scale | 100%-scale |
| Battery | 46 watt-hours | 46 watt-hours | 96 watt-hours |
| Battery life | up to 13.6 hrs | up to 13 hrs | ?? |
| USB | 2 x 3.0, 1 x 2.0 | 2 x 3.0, 1 x 2.0 | 2 x 3.0, 1 x 2.0 |
| Cameras | HD webcam + 8mp rear | HD webcam + 5mp rear | Reversible 2.0mp |
| Weight (as tested) | 4.4 lbs. | 4.6 lbs. | 6.8 lbs. |
| Size | 11.8 x 8.8 x 1.34 | 11.8 x 8.8 x 1.34 | 12.4 x 8.75 x 1.93 |
| Display | 11.6-inch. | 11.6-inch | 12.1-inch |
| Digitizer | Capacitive multi | Capacitive multi | Resistive |
| Glove-capable | Yes | No | Yes |
| Resolution | 1366 x 768 (16:9) | 1366 x 768 (16:9) | 1280 x 800 (16:10) |
While the basic construction of the V110 isn't any different from Getac's older V100/V200 convertibles that were around for many years, the display is. It's a 16:9 aspect ratio wide-format panel with the 1366 x 768 pixel resolution that, while no longer considered very high-res, is well suited for this size display.
The screen offers capacitive multi-touch technology, and there's also an optional active digitizer with a small, very precise pen that does not need a battery. And in this 2nd generation V110, Getac addressed the "glove issue," i.e. the company acknowledged that field personnel often wears gloves on the job and it's not practical to take off the gloves just to operate the computer. So the new version can be set for use with gloves.
Maximum brightness is 800 nits. For a while rugged laptop backlights became ever brighter, which improved sunlight viewability but rapidly drained the battery. So the V110 screen is not hyper-bright, but 800 nits is still a lot, especially compared to consumer laptops that are rarely over 200 nits.
Compared to Getac's prior generation 10.4-inch V100 and 12.1-inch V200 convertibles, the V110's footprint is between the two older models, as is its display size. While a convertible notebook cannot be as slender as a pure tablet, the Getac V110 is considerably thinner and much lighter than older convertible designs. That was, in part, made possible by new and much more efficient processor technology, and in part by the ever-shrinking size of components (RAM, solid state disks, half-size modules, etc).
Despite its very compact size, the V110's keyboard is 100%-scale, making typing easy and comfortable. The keys are black with white labeling. Shifted functions are imprinted next to the primary function in smaller inverted color, making the keyboard look a bit busy. On the plus side, there seems almost no backlight leakage around the keys in low-light conditions, something that often was an issue in older designs.
Despite its light weight, the V110 feels sturdy and substantial. It's almost all cast magnesium alloy, with a polymer bottom plate and rubberized polymer edge bumpers. Below is a look at the V110 from the top and from all four sides: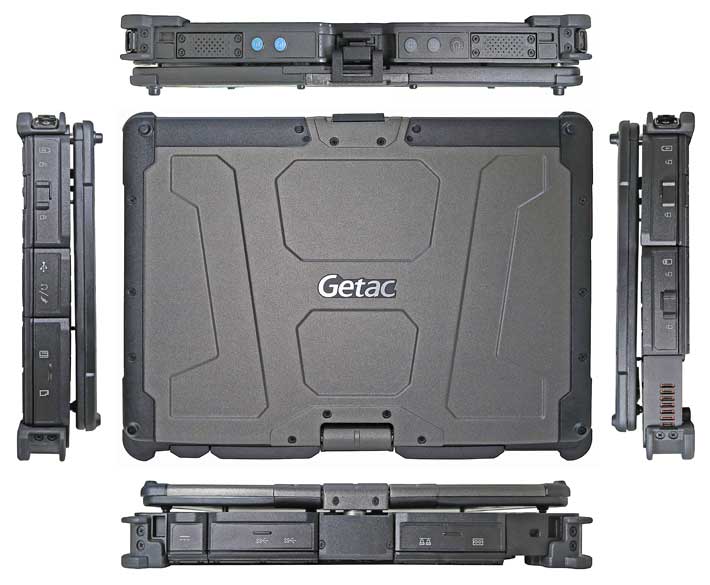 Sealing and protection of ports is of tantamount importance in rugged computers. Getac knows that and gave the V110 elaborate sealed snap-click protective doors. They consist of an inner seal with a rubber lip around it, and an outer polycarbonate door that is then pushed down for a very secure, tight seal and fit. You have to be careful to get them snap into place the proper way, but once you get the hang of it, it's a good, reliable solution.
For connectivity, there are two ultra-fast USB 3.0 ports, a single USB 2.0 port, HDMI, a RS232 serial port for legacy purposes, audio in/out, and a gigabit LAN jack. Don't look for older-style FireWire VGA, or modem ports; their functionality has been replaced by newer technology.
The two pictures below illustrate just how much thinner the Getac V110 is than the older V100 model. It's no wonder it weighs so much less. On the new model, note the dual speakers, the two blue programmable buttons, and the hardware volume controls (which can also be used for brightness control after engaging Function Lock with the P1 button).
The backside (below) has, from left to right, the power jack, a block with HDMI and the two USB 3.0 ports, another block with RJ45 LAN and the serial port, and then a Kensington lock slot.
The left side (below) houses one of the unit's two identically sized batteries and the V110's solid state disk. The disk sits in a protective little box that easily slides in and out and can quickly be removed, but it also has a catch so that it won't come loose by chance.
The right side (below) houses the second battery, a card compartment that accommodates an ExpressCard 34/54 and a Smart Card slot, and between them a USB 2.0 port and a standard audio jack. Note that the dual battery arrangement makes hot-swapping of batteries easy.
Exemplary details
Examining the Getac V110 more closely, you'll find some remarkable details that make this interesting convertible notebook easier to operate, more reliable, and more resistant to damage. It's clear that Getac has many years of experience in designing rugged computing gear.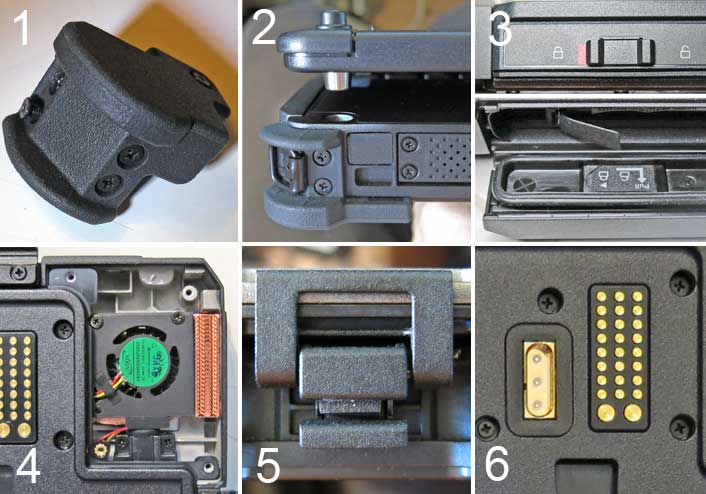 Clockwise and starting from the upper left, you can see:
Rubber bumpers provide low-tech but very effective protection against impact damage. The ones on the V110 are screwed on and can easily be replaced should they ever get damaged.
LCDs can twist and break when a device is dropped. On the V110, metal bolts on the LCD housing fit into receptacles in the system case, securely keeping the screen in place and thus reducing the chance of damage.
All of the V110's ports have protective covers with seals. They snap into position and can easily be replaced.
The V110 has a small fan (cover removed in the picture). It's actually outside of the sealed inner part of the housing, and it's waterproof.
Not only does the V110's LCD case have those metal bolts, it also has a simple mechanical lock that keeps the lid from opening when it shouldn't.
Gold-plated surface mount for the dock (with antenna pass-through next to it).
Latest Intel "Broadwell" processor technology
Deciding on the right processor is one of the most difficult tasks a mobile system designer faces. Customers want maximum performance and great battery life but, up to recently, it was either one or the another. That's been changing as each successive generation of Intel's high-end processors has become more and more power-efficient. The 5th generation of Intel Core processors, codenamed "Broadwell," builds on the "Haswell" 4th generation's major steps forward in combining excellent performance with remarkably frugal operation and greatly improved integrated graphics. The primary difference being the two generations is that Intel yet again shrank its lithography from 22nm to 14nm, thus further increasing efficiency and reducing cooling needs, and enabling an even larger number of transistors on an even smaller package. And Broadwell is what Getac upgraded the second generation of its V110 platform to.
For the new V110, Getac offers the choice of four ultra-low voltage chips (vs. just two with the first gen V110), the Core i5-5200U and i5-5300U, and the Core i7-5500U and i7-5600U. The table to the left shows the important specs of the four available processors.
| | | | | |
| --- | --- | --- | --- | --- |
| Available V110 CPUs | V110 Gen 2 | V110 Gen 2 | V110 Gen 2 | V110 Gen 2 |
| Intel | Core i7 | Core i7 | Core i5 | Core i5 |
| Model | 5600U | 5500U | 5300U | 5200U |
| Cores/Threads | 2/4 | 2/4 | 2/4 | 2/4 |
| Lithography | 14mn | 14mn | 14mn | 14mn |
| Base Clock Speed | 2.60 GHz | 2.40 GHz | 2.30 GHz | 2.20 GHz |
| Turbo Speed | 3.20 GHz | 3.00 GHz | 2.90 GHz | 2.70 GHz |
| Thermal Design Power (TDP) | 15 watts | 15 watts | 15 watts | 15 watts |
| Smart Cache | 4MB | 4MB | 3MB | 3MB |
| Integrated graphics | HD Graphics 5500 | HD Graphics 5500 | HD Graphics 5500 | HD Graphics 5500 |
| Graphics base speed | 300 MHz | 300 MHz | 300 MHz | 300 MHz |
| Graphics max speed | 0.95 GHz | 0.95 GHz | 0.90 GHz | 0.90 GHz |
| Intel vPro | Yes | No | Yes | No |
| Intel TSX-NI | Yes | No | Yes | No |
| Intel SIPP | Yes | No | Yes | No |
| Intel Trusted Execution | Yes | No | Yes | No |
The i7 chips are a bit faster and have more Smart Cache (4MB vs. 3MB) than the Core i5 models, but other than that, there isn't a large difference between the four (see full Intel comparison between these two chips here).All are dual core designs with four threads and 15 watts thermal design power, all use the new-for-Broadwell HD Graphics 5500, and the clock speed differences aren't very large.
What may make a difference in certain applications is the availability of four Intel technologies (vPro, TSX-NI, SIPP, and Trusted Execution) that's included in the i7-5600U and i5-5300U, but not in the i7-5500U and i5-5200U. The extra security and manageability capabilities of vPro, especially, are required in many enterprise deployments. TSX-NI Transactional Synchronization Extensions New Instructions) helps make parallel operations more efficient via improved control of locks in software, SIPP (Stable Image Platform Program) allows deployment of standardized, stable image PC platforms for at least 15 months, and Trusted Execution technology provides security capabilities such as measured launch and protected execution, and may thus also be an enterprise requirement.
To give an idea of the thermal and efficiency improvements in Intel's latest Core chip generations, note that the super-efficient 15 watt TDP chips in the 2nd gen V110 match or exceed the performance of the final versions of the Getac V100 and V200 convertible notebooks with their much less efficient 35 watt TDP standard voltage Intel 3rd generation Core processors.
An important decision systems designers must make is whether to use passive cooling or an active system fan. In the past, Getac used advanced passive cooling systems even in powerful standard voltage systems. The rationale was the elimination of fan noise and potential mechanical failure. Well, the V110 platform does have that small fan. It's unobtrusive and doesn't come on often, but it is a fan. One possible reason may be that the lightweight V110 doesn't have the mass to act as its own heat sink. A more likely one is that an active fan still offers better protection against overheating and, more importantly, makes it possible for the CPU to operate without significant performance drops even at the upper end of its operating temperature range.
Battery life — excellent power conservation
We mentioned that one of the reasons the Getac V110 platform is so much thinner and lighter than the older V100 and V200 is that in the V110 their massive battery (85 to 96 watt-hours, depending on version) has been replaced by two much smaller batteries that combine for only about half the total capacity of the V100/V200 pack. The V110 batteries are only 3/8th of an inch thick and are roughly the size of a modern smartphone.
Communications — fast, comprehensive, flexible
Comprehensive communications features are mandatory in today's mobile computers, and the V110 is well equipped.For wired network connectivity there is gigabit Ethernet (10/100/1000base-T) and a serial port, which still comes in handy for use with legacy peripherals. WiFi is covered by an Intel Wireless-AC 7265 module that provides 802.11ac WiFi. 802.11ac is the latest WiFi standard, often called "5G WiFi," and it is up to three times faster than 802.11n (which 802.11ac routers also support). There is also Class 1 Bluetooth version 4.0, which may or may not be combined with the Intel Wireless-AC 7265 (Intel offers one that includes both).On the mobile broadband side of things, the V110 can be ordered with an optional 4G LTE module (our tester had a Sierra Wireless AirPrime 4G card). A dedicated GPS module is also optionally available.
Ruggedness
On the ruggedness side, the V110 is considered fully rugged and designed to perform "flawlessly under extreme working environments where weather conditions and physical abuse are unavoidable." The machine can operate between -6° and 140° Fahrenheit (-21° to 60°C) (though, per manual, the recommended temperature range is between 32 and 131F). Sealing is at the IP65 standard, and the machine fills MIL-STD-810G testing requirements for humidity, altitude, shock, drop, vibration and others, and there is optional compliance with MIL-STD-461F (electromagnetic interference). The pictures below show ruggedness testing being performed on a Getac V100. We couldn't find V110 testing images or videos, but Getac undoubtedly runs the same test on the V110.
Security — all the tools are there
Data and access security is becoming an ever more important issue in mobile computing. The V110 offers TPM 1.2 functionality to store secured information. An optional contactless Smart Card reader provides additional access security. A Kensington-style lock slot can be used to secure the V110 via a steel cable. Both available processors support vPro, a set of Intel security and remote management technologies that provide multiple lines of built-in defenses (for more detail on implementing vPro features, see Intel's vPro page here).
LumiBond 2 display works well indoors and out
Getac's V110 into press release mentions an "updated LumiBond 2.0 touch screen that allows glove-on use." Since outdoor display and interface performance is just as important as overall performance (or perhaps more so), let's examine what this means.
First, rugged computer manufacturers have long been in a race for the best possible outdoor/sunlight-viewable display technology. Getac generally calls theirs "QuadraClear". The term derives from its four core features: a bright backlight, anti-reflective coatings, linear polarizer, and circular polarizer.All major manufacturers of outdoor-usable mobile computing equipment use those technologies, and so the difference boils down to a) backlight brightness and b) the extent to which the expensive optical coatings are applied and how the various layers are bonded (the fewer reflective surfaces, the better). Getac calls their layer bonding process "LumiBond".
Getac's QuadraClear increases screen brightness, up to 800 nits in the V110, while the optical treatments cut down the percentage of incoming ambient light. That's important because the ratio between the backlight and the reflected incoming ambient light determines the effective contrast ratio, which then translates into the degree of real world outdoor readability of a display.
The two comparison pictures below highlight the outdoor display qualities of the V110 compared to a 3rd gen iPad's retina display (top) and an iPad Air 2 (bottom).The first picture shows the two devices side by side outdoors on a bright California spring day. While the 3rd gen iPad screen is quite good, its super-glossy screen and lack of reflection control turn it into a virtual mirror outdoors. The Getac V110's semi-matte display shows no reflections and remains perfectly readable. This is one of the major differences between a vertical/industrial market device carefully designed for outdoor and sunlight use, and a consumer market tablet designed primarily for use indoors.
The image below pits a 2nd gen Getac V110 against the newer iPad Air 2, photographed on a bright summer morning outside our Tennessee office. What's obvious here is how the V110's 800 nits screen can generate a very good image while the Apple tablet with its roughly 400 nits screen is noticeably darker.
The matrix below shows the V110 display under a wide variety of viewing conditions, all but one of them (the multi-touch picture with the hand) outdoors. As can be seen, the V110 display lives up to expectations.
Multi-touch — a multi-faceted issue
The V110 has multi-touch. That's good news because it's almost mandatory to have it these days, and certainly on a device that can also be used as a tablet. Getac's implementation of multi-touch on the V110 is capacitive touch, and not the modified resistive dual-touch that was offered on the V100. That means any capacitive touch stylus works on it, and one comes with the V110.
Getac's implementation claims five separate inputs in the manual, but actually seems able to differentiate up to ten separate touch inputs (on Windows systems we usually determine how many in good old Windows Paint). Unlike some products that have touch but make it difficult to use by having thick bezels around the screen, the V110 doesn't have a protruding bezel. Its display cover extends flush past the actual LCD perimeter by half an inch all around. And even where the screen cover meets the plastic bezel, that's flush-mounted, too, making touch use of the V110 in tablet mode as easy as it can be.
That said, there's still Windows, and Windows was never optimized for touch. The original pre-production V110 we had hands-on with before its introduction had Windows 8 installed, and the Windows 8 Metro interface worked, as expected, very well with multi-touch. But hardly anyone was/is using Windows 8 in Metro mode, and the legacy Windows desktop and legacy Windows apps work far less well with capacitive touch, or any touch for that matter. Our initial production eval unit came with Windows 7, and was entirely more pleasant to use. Once you configure the Windows 7 user interface as RuggedPCReview.com recommends in our "Optimizing the legacy Windows interface for touch and tablets", capacitive touch works quite well on the V110. The fairly bulbous point of a capacitive stylus is still less precise than the tip of a plain old resistive stylus, but capacitive touch is definitely far more future-proof.
The gen 2 V110 Getac sent us for testing came with Windows 8.1, and Windows 10 is available the end of July 2015.Yet, since legacy Windows software will probably remain in use for a good number of years to come, and since some of that software requires mouse-style pinpoint accuracy, Getac does offer an active pen option. The pen then works as part of an auto-sensing dual input system where the screen responds to touch, but senses the presence of a pen and accepts its (very precise) input.
Summary: Second generation Getac V110
The second generation Getac V110, introduced April 2015, provides a series of technology and functionality updates to Getac's convertible notebook that can also be used as a tablet. Already lauded for its slender, lightweight design (for a fully rugged machine),
its easy-to-operate capacitive multi-touch screen, the full-scale keyboard, and the availability of an active pen for precision operations, the updated V110 includes, among other tweaks, Intel Broadwell processor technology and glove-touch capability.Taking full advantage of the latest power-saving technologies from Intel and other suppliers, the Getac V110 provides a svelte and contemporary mobile computing solution that is rugged enough for any deployment, offers state-of-the-art performance, and leverages both the laptop and the tablet form factors to optimal advantage.Apart from the sleek profile and surprisingly low weight, the second generation Getac V110 convinces with the efficiency and graphics improvements of Intel's miniaturized 14nm Broadwell lithography. Capacitive multi-touch provides a familiar, effortless operating interface that's now enhanced with glove-touch capability; communications are at the latest standards (802.11ac, BT 4.0, Gobi 4G); and Getac also made available a higher resolution camera.What also impresses is that Getac didn't have to update its convertible notebook's technology so quickly. The original V110 was by no means obsolete. It's the drive to quickly pass on to customer the latest and greatest that sets leaders apart
.– Conrad H. Blickenstorfer, July 2015

Getac V110 Gen 2 Specifications
Status

Introduced Fall 2013, original V110 full review March 2014, full review update for Gen 2 version July 2015

Type

Rugged convertible notebook

Processor
Intel Core i7-5600U (2.60GHz, 3.20GHz max turbo)
Intel Core i7-5500U (2.40GHz, 3.00GHz max turbo)
Intel Core i5-5200U (2.30GHz, 2.90GHz max turbo)
Intel Core i5-5300U (2.20GHz, 2.70GHz max turbo)
Thermal Design Power

15 watts (all available processors)

Chipset

Intel Broadwell-U PCH-LP

Graphics

Intel HD Graphics 5500

Display Chipset

Integrated into processor

OS

Windows 7 Professional, Windows 8.1 Professional

Memory

4GB DDR3L 1,600MHz SO-DIMM, expandable to 8GB

Display type

LumiBond 2 sunlight readable TFT LCD, 800 nits, anti-glare and anti-reflection film, Corning Gorilla Glass.

Display size/res

11.6-inch/1366 x 768 pixel HD

Digitizer

10-point capacitive multi-touch with glove-touch setting; optional auto-sensing dual-mode adds active digitizer pen

Keyboard

Integrated, 88-key 100%-scale waterproof membrane keyboard

Storage

128GB or 256GB SATA SSD

Expansion slots

1 x Express Card/54mm, Smart Card reader

Housing

Magnesium alloy, sealed ports

Size

11.8 x 8.8 x 1.34 inches (300 x 223 x 34 mm)

Weight

Starting at 4.4 lbs. (2.0 kg.); 4.6 lbs. as tested

Operating temperature

-6° to 140°F (-21° to 60°C)

Ingress protection

IP65

Vibration

According to IEC 68-2-6 / MIL-STD-810G, Method 514.5

Intrinsic safety

Unknown

Power

Dual 2,140mAh 23 watt-hour Li-Ion ("up to 13 hours")

Interface

2 x USB 3.0, 1 x USB 2.0, 1 x gigabit RJ45 LAN, 1 x Serial RS232, 1 x headphone out/mic-in, dock, opt. RF antenna pass-through for GPS, WLAN, WWAN

Wireless

Intel Dual Band Wireless-AC 7265 802.11ac, Bluetooth 4.0 class 1; optional Gobi 4G LTE, discrete GPS, fingerprint reader, 13.56MHz RFID, contactless smart card reader

Price

Inquire

Contact

GETAC us.getac.com

Web page

Getac V110 page

Brochure

 Getac V110

Warranty

3-year bumper-to-bumper warranty standard
Reposted from:
https://www.ruggedpcreview.com/3_notebooks_getac_v110.html