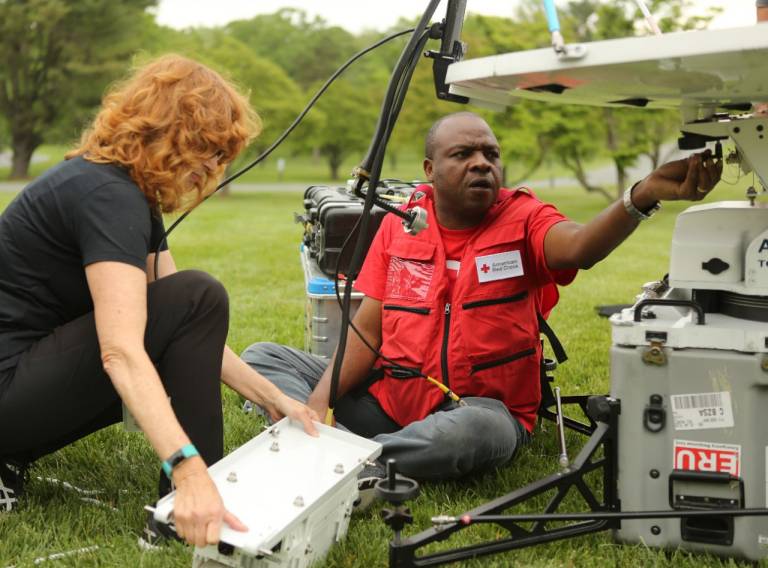 "Information technology and communication are so important in the wake of a disaster," said Rick Steeves. As a member of a Red Cross international crisis response team, Steeves and his colleagues are often on the ground within 24 to 48 hours after disaster strikes to set up satellite communications, ensuring responders and those on the ground can get the critical supplies and relief they need.
"Our work lays the foundations for other humanitarian teams focused on food, clean water, shelter and other necessities after a major international event," Steeves said.
At a recent week-long training, Steeves and 20 of his Red Cross colleagues gathered to share best practices. Rustam Makhmudov, who organized the training for the Red Cross, says that practicing the logistics and troubleshooting the technology before a disaster is critical to the success of any international operation.
"The main goal is for our volunteers — old and new — to walk away with tangible skills to take to the field. We are also building a team spirit and enthusiasm that we bring to the work. The more we do this in training, the better we can help people when disaster strikes," he said.
Rather than in the mountains of Nepal or the coast of Mozambique, volunteers from around the country and Haiti gathered in Maryland to set up telecommunications gear and troubleshoot equipment. The goal was to simulate field conditions during an international crisis such as a hurricane, typhoon or earthquake. They worked with three satellite terminals to practice support for a basecamp for a hospital or field operations hub.
According to Makhmudov, simulating field experiences with volunteers is a critical component of the training. "Due to COVID, our team hasn't been able to gather and share best practices for some time. During a crisis response, the situation on the ground is complicated and fast-paced. One of the best ways to learn and prepare is to do hands-on practice with the equipment," he said.
Makhmudov said it takes time to position the ground terminal at the proper angle. "That's the trickiest part of working with this equipment because we have to pinpoint exactly where the satellite is to establish a connection," he said. Once they establish a connection, responders can link to the outside world. "Communication is everything. It helps other responders during the disaster successfully accomplish their mission and help those who need it most," he said.
Steeves, who has volunteered with the Red Cross for more than a decade, deployed to the Bahamas following Hurricane Dorian. He says there were many lessons learned during that field operation for their information technology emergency response unit (ITT ERU).
"When we arrived in the Bahamas, we had 83 cases of supplies and equipment. The logistics were challenging and complicated," Steeves said. Satellite equipment used during this disaster helped responders communicate how massive the devastation on the ground was, particularly on the island of Abaco, where the infrastructure was completely decimated and life-saving services were needed.
A Red Cross volunteer since 2005, Julie Bradley deployed to Myanmar, Nepal and Puerto Rico as an ITT ERU responder. She says that she's shown up at a disaster and been told that medical professionals are waiting for the internet to be restored so that they can perform a life-saving operation.
"This puts the importance of our work in focus. Simply put — people's lives depend upon us," she said.  Bradley says that she and her fellow Red Crossers enjoyed the training and are ready to go out into the field. "We do this work because we like to feel valued and appreciated. We like to feel like we are a part of something larger than ourselves. After this training, we are prepared," she said.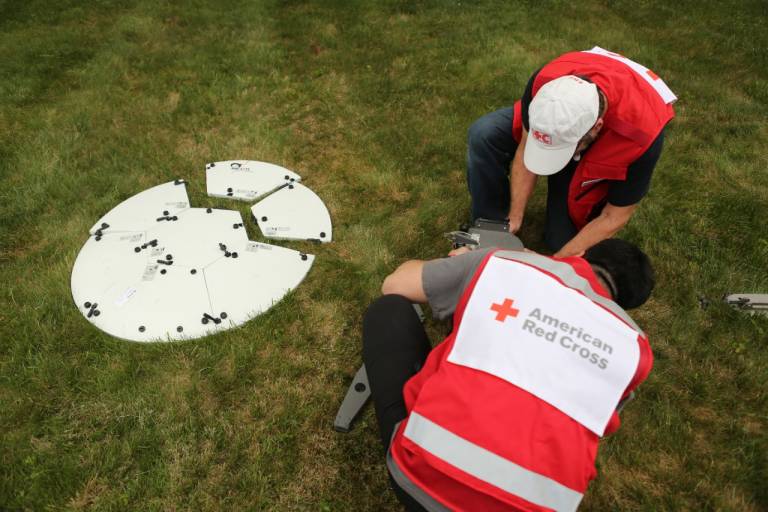 At a training in Maryland, Red Cross staff and volunteers participated in a highly-specialized training for emergency responders. This training, which replicated field experiences during an international deployment, focused on information technology.