Satellite Phones, Rugged Laptops & Tablets, Mobile Routers, Mobile Printers and GPS Communications Products and Services
What our customers are saying.
Mike Kirsch from Preferred Communications handled our order, shipment and install from start to finish.  All of the equipment,  (Getac S400 computers, docking stations and mounts for four different patrol vehicles) arrived within weeks of placing our order.  There were no missing parts and the install was probably the neatest and most professional job we have experienced.  Our patrol officers are very happy with the speed and performance of the Getac S400 and the strength and durability of the Gamber-Johnson docking stations and mounts.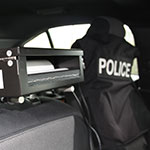 What would I do without you guys I have just got back from a rekey trip to the Kalahari desert wilderness To find new locations for our next trip for our clients in Feb 2019. The first evening I was about 140 KS into the desert when we had a storm the likes I have not seen; we had about 350-mil (12 inches) of rain in one night. This is unheard of in this arid part of South Africa and Botswana the photos below were taken 2 days after the rains. See how green the desert is and you will see we use a Jeep on this trip. We had no other vehicle with us and we saw no other people for 3 days. This trip would not have been possible without my old sat phone that I bought from you all them years ago. I take it everywhere with me when traveling in the bush; it just makes me feel safer to know I can contact outside help if needed. I hope one day you or your friends and family might see this stunning country. Thanks again for all you do for me and my company.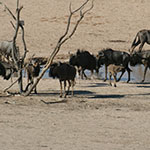 I was happy to have the phone (Iridium 9505A) with me in Nepal. We had a medical emergency up high in the mountains and the phone greatly facilitated the process. It's wonderful technology.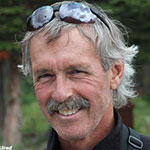 "Thanks to Preferred Communications of Butner, North Carolina, for their support of The North Carolina Zoo's continuing projects in Africa. We recently arrived in the USA, back from Africa, relatively in one piece…no robberies or other high crimes, though we were beginning to wonder after our vehicle broke down 50 miles from the closest town and we ended up waiting 14 hours for a rescue vehicle. We used the Iridium satphone then to bail ourselves out, and we used it throughout the trip, including sending journal entries to students in the US via the modem and also keeping up with the changing terrorism threat level and the Columbia disaster…it worked flawlessly, and has turned out to be an absolutely critical piece of equipment for our field team." Visit: The Elephants of Cameroon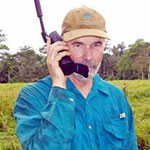 The phone I purchased from you was a tool that no soldier should ever do without. It allowed me to talk with my family everyday and you can't put a price on that.